#100HorrorMoviesfor100Days Day 10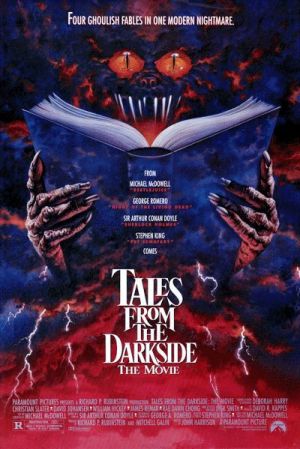 Day 10: Tales from the Darkside: The Movie  
Writer: Michael McDowell and George Romero
Director: John Harrison
Stars: Deborah Harry, Christian Slater, Matthew Lawrence
Year released: 1990
I hear there is a remake of the works of the actual television program from the 1980s. I grew up with Tales from the Darkside. I have fond memories of staying up late in my room, dipping Doritos in cheese sauce (I was a fat kid) and my eyes fixed on my small television. The remake is being written by Bram Stoker Award-winning author Joe Hill. Hill writes fantastic short stories. Read his 20th Century Ghosts and you will see.
Overview: An anthology where a child reads three stories to a witch who plans to eat him.
The three shorts are titled Lot No. 249, The Cat from Hell, and Lover's Vow.
Lot No. 249 is based on a short story written by Sir Arthur Conan Doyle. The Cat from Hell is based on a story written by Stephen King. Michael McDowell wrote Lover's Vow. Lover's Vow is based on yuki-onna, a spirit in Japanese folklore.
A sequel was written by McDowell and Romero. The segments include Robert Bloch's Almost Human, Stephen King's Pinfall and Rainy Season. The sequel has yet to be produced.
Several of the cast members also appeared in various episodes of the Tales from the Darkside series.
Many consider Tales from the Darkside: The Movie to be the unofficial Creepshow: 3.