#100HorrorMoviesfor100Days Day 11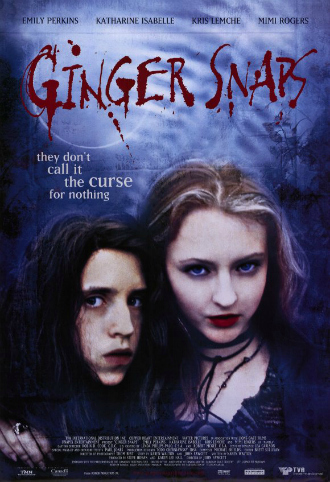 Day 11: Ginger Snaps
Writer: Karen Walton
Director: John Fawcett
Stars: Emily Perkins, Katharine Isabelle, Kris Lemche, Mimi Rogers
Year released: 2000/2001
I haven't watched many werewolf movies. Are there even enough werewolf movies? I knew this was a werewolf movie, but I didn't know this was a Canadian werewolf movie. Go Canada! If you didn't know and I spoiled it for you – tough. Get over it. This is the first time I watched Ginger Snaps and I enjoyed it. I liked that the girls were fairly morbid. I'm sick of seeing girls portrayed living in this girly, pink tra-la-la paradise. Not all girls are like that and certainly not these two sisters.
Overview: Two sisters who are obsessed with death and the macabre have an encounter with a werewolf.
There was no CGI in this movie (THANK YOU). The werewolf was created with the use of makeup and prosthetics. Why can't more movies do this? I hate CGI. It makes me feel like I'm watching a cartoon.
Ginger Snaps smashes some of the women-in-horror-movie stereotypes.
The movie was shot in 6 weeks and the final was ready in 8 weeks.
Both girls have appeared in multiple episodes of Supernatural.
This is part of a trilogy. I don't think I'll watch the next two as I can't think of many horror trilogies that are actually good.