#100HorrorMoviesfor100Days Day 12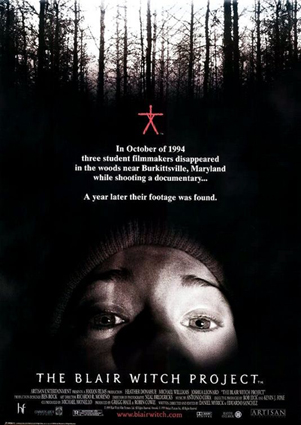 Day 12: The Blair Witch Project
Writer:  Daniel Myrick and Eduardo Sanchez
Director:  Daniel Myrick and Eduardo Sanchez
Stars: Heather Donahue, Michael C. Williams, Joshua Leonard
Year released: 1999
I saw The Blair Witch Project in 1999, pre major movie theater release. When I saw the film it was not accompanied by credits. Those of us in the theater that night had no idea what we were watching. While most of us were intelligent to know that this was a horror movie a thought did cross many of our minds wondering 'Is this really real?' You have to remember, this was 1999 pre-facebook, pre-twitter, pre-I-have-my-phone-connected-to-my-hand. This was also the first major found footage film. I'm happy I was able to see this movie in that bubble so long ago as it enhanced the experience. Today, the film isn't as effective as it was 16 years ago and we're really desensitized to the now-boring found footage film.
Overview: Three people hike through a Maryland forest to film a documentary on the legend of the Blair Witch.
After the film's release in 1999, before the major marketing campaign, people actually thought the events in the film were real.
There is no legend of the Blair Witch. It's a mashup of witch legends created by the writers of the film.
The reactions from the tent shaking scene are real. The filmmakers shook the tent at night, without the actors knowing, in order to scare them.
The three main actors shot the majority of the film with their cameras.
Besides having an extensive outline to review, all lines were improvised, and nearly all events in the film were not known to the actors.