#100HorrorMoviesfor100Days Day 13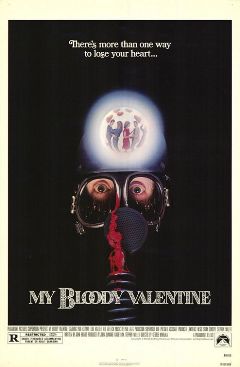 Day 13: My Bloody Valentine
Writer:  John Beaird
Director:  George Mihalka
Year released: 1981
I've never seen this before, and while setting parts of this in a mine did provide a great creepy atmospheric feel I didn't really care for the movie. There were a few interesting kills (death by boiling pot of hot dogs?), but there was something about it for me that was fairly annoying. The characters, with the exception of the creepy old guy at the bar, were all annoying.  I'll likely watch the remake, and I will do so with hopes that it is better than the original.
Overview: A folk tale of a murderous miner becomes reality.
The film was shot in real mines.
Quentin Tarantino has stated that this is one of his favorite slasher films.
Many of the houses in the film were original miner houses, some of which still stand.
The producers of the film wanted to capitalize on the Valentine's Day setting of this movie considering the success of other holiday based horror films such as Halloween and Friday the 13th.
Mihalka pitched a sequel but Paramount pictures declined. The remake, Bloody Valentine 3D, was released in 2009.