#100HorrorMoviesfor100Days Day 14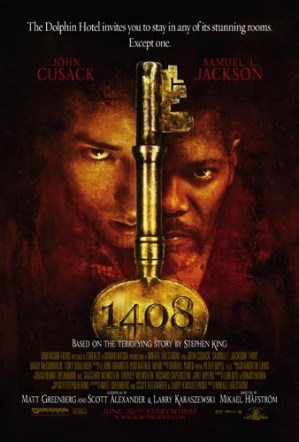 Day 14: 1408
Writer:  Matt Greenberg, and Scott Alexander. Based on the short story by Stephen King.
Director:  Mikael Håfström
Stars: John Cusack and Samuel L. Jackson
Year released: 2007
I saw this originally in a movie theater on opening night. My husband who doesn't really care for horror movies watched it with me and he saw it again with me this time around. So, it's good enough for a comic book geek to enjoy. I made a comment how John Cusack was really good in this film and that's disappointing considering The Raven (which Cusack also stared in) was terrible. My husband said that's because they tried to position The Raven as a quasi-action film, not horror. If it's a horror movie you have to make it a horror movie. Regardless of that, Cusack was wonderful in this. There's a hotel here in Chicago, and I'm sure in many people's hometowns, that has had questionable deaths. I'm surprised something like this wasn't made before.
Overview: A skeptic paranormal writer checks into the infamous room 1408 at the Dolphin Hotel.
The inspiration for room 1408 comes from the Hotel Del Coronado in California as well as an undisclosed hotel in the East.
After watching it this time around the ending is different from what I recall. I learned that there were multiple endings shot and tested for this film. So, I must have seen a test audience ending the first time around. None of the endings match King's written ending.
Alternate ending 1 (This is the ending I saw in the theater)
Alternate ending 2
Alternate ending 3
The DVD runtime is 104 minutes and 8 seconds, giving a nod to the movie's title.
One of the first victims of the room was named Grady. Grady is the name of a character in Stephen King's The Shinning.
The bottle of alcohol that Gerald gives Mike before Mike settles in to the room for the night is called Les Cinquant Sept Décès in French. It translates to 56 deaths, the number of deaths that occurred in the room up to that point.