#100HorrorMoviesfor100Days Day 15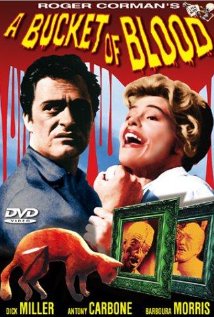 Day 15: A Bucket of Blood
Writer:  Charles B. Griffith
Director:  Roger Corman
Stars: Dick Miller, Barboura Morris, Antony Carbone
Year released: 1959
I have never seen A Bucket of Blood. This was my first viewing and I was pleased. It felt like a long episode of The Twilight Zone. This is a satiric horror film set in the beatnik culture. While watching it I was wondering if there is a present example set in the hipster culture and I suppose It Follows would fit in that category. Many of the elements in this film are relevant today; one group thinks they are better than another group. In this movie it's the self-absorbed artists who believe they are better than others. It's a simple premise that's effective: The Yellow Door cafe's busboy Walter is treated poorly by the pretentious arts crowd who gather there. Walter discovers that when he murders he creates sculptures that are applauded by the arts people he longs to impress. Only, they don't know what is beneath that clay.
Overview: A busboy murders in order to create celebrated art.
The movie was directed by famed B-Movie director Roger Corman. Corman is known as the director of a multitude of cult classics.
The title of the movie before it was finalized was "The Living Dead."
Star Dick Miller was not happy with the film. He thought it could be a greater success if more time and effects were used.
During the film's original release there was a shock promotion campaign run in the newspaper that read "If you bring in a bucket of blood to your local theater's management (or ticket booth) you will be given one free admission." I'd gather no one actually did this…if they did I'm sure they're still in jail.
The film was shot in less than a week.